Resources
Our Resources page contains content that is not related to our wind energy development work. The content will provide information that will help people use electricity to replace the use of fossil fuel. We may come up with other helpful content for this page in the future.
Presentation to home owners association on wiring a garage for an EV (electric vehicle or PHEV plug-in hybrid electric vehicle).

Note: You should consult with a qualified electrician to determine if the way your building is wired and metered will allow for the modifications necessary to wire your garage with 240v service. Some electricians may not be familiar with upgrading service in a multi-electric meter environment like this. If the photo below each of the round glass meters belongs to an individual condo unit.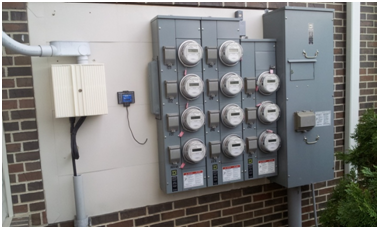 Even if an electrician says it is possible you should also contact your local electric utility and City electrical inspector to verify the electrician's finding. You should do this before you present your request to your home owner's association.
A member of the Enervation team recently produced this presentation, which was requested by their home owners association, when they asked for permission to install a 240v outlet in a detached garage. What made this situation complicated was the following.
The garage is 100' from the building where the condos are located.
The electric service for the garages at this condo are wired to the Association's electric meter and paid by the Association.
The Association frowns on installing large objects on the exterior of any of their buildings.
Download
and use this presentation at your own risk. It is provided as-is with no express or implied warranty.
If you are wondering if this presentation worked, it did! The requested electrical work was approved. So hopefully it works for you. You may need to modify this presentation to suit your particular situation. Hopefully it will work for you but we can't guarantee it. If you make a better version of this presentation and are willing to share it with others please send your presentation to us in Microsoft Power Point format. If we like your presentation we may replace ours with yours or offer it as an alternative to ours.
(10mb size limit)
This presentation and future presentations will be provided at no cost. We simply want to help more people be able to charge their EV or PHEV. Hopefully someday most people won't need to go to a gas station to power up their vehicle.